Experience one of our tailor made Zimbabwe safaris and enjoy a holiday of a lifetime visiting some of the wonders of the world
Prices from £2495.00 per person
Day 1:           Travelling
Travel from London Heathrow to Victoria Falls Airport via Johannesburg.
Day 2:           Ilala Lodge, Victoria Falls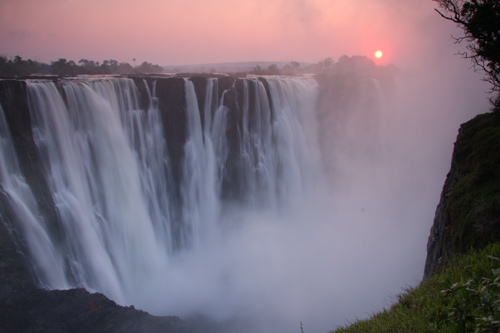 Victoria Falls
One of the original natural wonders of the world, the Victoria Falls is a World Heritage Site and an extremely popular tourism attraction. Known locally as 'The Smoke that Thunders' this spectacle is accessible from both Zambia and Zimbabwe and it is an ideal place to combine a game viewing and water sports. There is excellent fishing, a terrifying bungee jump and arguably the best commercial white water rafting in the world.
Notes
After arranging your visa in Zimbabwe, you will be met in the arrivals hall for your transfer too Ilala Lodge. The rest of the afternoon is at leisure until the late afternoon sunset cruise.
Overnight: Ilala Lodge
The perfect platform from which to explore the Natural Wonder of the majestic Victoria Falls. Victoria Falls accommodation at Ilala Lodge Hotel provides distinguished yet affordable accommodation in a gracious and secluded ambiance.
Ilala Lodge Hotel is ideally situated on the Zimbabwean side of the falls and is the closest hotel to the Victoria Falls as well as the Vic Falls town centre. Wild animals often graze on the hotel lawns with the spray of the falls in the background.
Activities
Zambezi River Cruise
Guests are met by the boat staff and driven to the jetty on the Zambezi River for boarding. The boats meander slowly upstream along the length of the Mosi-oa-Tunya National Park as you spot animals and birds from comfortable chairs on cool wooden decks. Excellent food is served and the bar is well stocked with spirits, good wines, beers and soft drinks.
Day 3:           Ilala Lodge, Victoria Falls
Victoria Falls Guided Tour
A view of the Victoria Falls is something you will never forget and the best way to see them is on a guided tour. Discover how the Falls were formed and what local customs and traditions surround them. These tours are extremely informative and end with a visit to the local art and crafts centre.
Day 4:           Somalisa Camp, Hwange National Park
Hwange National Park
Hwange National Park is Zimbabwe's biggest reserve, home to a profusion of wildlife, including giraffe, lion, zebra and approximately 40 000 elephants. It provides sanctuary for all the country's endangered species, including a population of wild dogs thought to be among the most sizeable surviving groups on the continent. Terrain ranges from desert dunes and savannah lands to rocky outcrops and sparse forests, and visitors have the choice of game drives, guided walks or horseback safaris as a means of experiencing the park and its creatures.
Notes
This morning you will be transferred by road to Hwange National Park, this takes approximately 3.5 hours.
Overnight: Somalisa Camp
A small intimate tented camp tucked away subtly under a canopy of an acacia tree island on an ancient river system. This unbeatable wild elephant sanctuary is known for its large herds of elephant and the Somalisa concession in Hwange National Park affords you with your private African wildlife encounters from the minute you step out of your tent. Somalisa having only 12 beds has been designed as an environmentally low impact camp giving you a barefoot luxury experience with understated elegance.The largest reserve in Zimbabwe is home to one of the highest concentration of game: the park boasts more than 100 different animal species and over 400 species of birds. Moreover, Hwange is world famous for its 30,000 elephants, making it one of the few great elephant sanctuaries left in Africa. Activities include guided walks game drives and spot lighting as well as game viewing from hides. All are lead by qualified and passionate guides who will share their knowledge and love of the bush with you.
Day 5 – 6:           Somalisa Camp, Hwange National Park
Day Notes
Enjoy game viewing activities in Hwange National Park.
Day 7 – 8:           Bumi Hills Safari Lodge, Lake Kariba
Lake Kariba
The planet's most voluminous man-made lake, Kariba is a popular tourist destination that was created in the 1950s when the mighty Zambezi was dammed. It stretches for more than 200 kilometres along the border between Zimbabwe and Zambia, forming a natural boundary between the two countries. The lake's waters are home to abundant crocodiles, hippos, fish and aquatic birds, while its shoreline and islands are rich with terrestrial game such as elephant and buffalo. It has become one of Zimbabwe's main tourist attractions offering houseboat holidays, fishing safaris and wonderful game viewing experiences.
Day Notes
After breakfast you will be transferred to Manga Airstrip for your flight to Lake Kariba. On arrival you will be met and transferred to Bumi Hills Safari Lodge. The rest of the afternoon is at leisure.
Overnight: Bumi Hills Safari Lodge
Bumi Hills Safari Lodge and Spa boasts one of Africa's finest wilderness locations with an elevated position on a range of remote hills overlooking the vastness of Lake Kariba. Bumi is easily accessible by light aircraft and boat, allowing you to be swiftly transported into paradise without the stress of a long journey. You are welcomed into luxurious comfort by a team of staff that are unfailingly passionate and committed to ensuring your stay will forever be etched in a treasured part of your memory.
The lodge has a total of twenty rooms, all with views over the lake. Ten of the rooms are premium rooms with balconies and uninhibited views. The other ten are garden rooms with slated terraces, set a little way back behind and on a level above the premium rooms. All rooms are air conditioned at night and during the day upon request.
Taking centre stage is the beautiful infinity pool that seems to blend endlessly into the lake horizon. The pool is surrounded by intimate wine and dining terraces on different levels. The lodge interiors have been beautifully finished in a fusion of contemporary Western and African styles. At the Spa you will have he opportunity to indulge yourself with a visual sensory experience like no other – overlooking Lake Kariba.
We are situated on an extensive private wildlife conservation area. Bumi Hills is home to lion, leopard, big herds of elephant and buffalo, as well as a multitude of different plains game. We have superb fishing in the lake waters surrounding the lodge with bream and the fighting tiger fish in abundance.   Birding and cultural experiences also abound. Bumi Hills is an dream wedding destination – an incredible setting for a wedding whilst enjoying special time with family and friends surrounded by the lake and a myriad of wildlife! Another option is to hold a management conference or reward for your achievers and host a break away at this very special destination.
Bumi Hills Safari Lodge and Spa has won a 2013 Certificate of Excellence Award through Trip Advisor
Day 9 – 11:           Kanga Camp, Mana Pools National Park
Mana Pools National Park
The life-giving power of the Zambezi River makes Mana Pools National Park one of Zimbabwe's most lush and flourishing regions, designated as the country's second World Heritage Site and known as one of the continent's premier game-viewing regions. Canoe trips are offered year round and provide a unique and memorable way for visitors to experience the area's striking scenic beauty and diverse fauna, while guided walks are a great way to take its pristine riverside forests.
Day Notes
This morning you will be transferred to the airstrip for your flight to Mana Pools. You will be met at Dandawa Airstrip and transferred to Kanga Camp. The afternoon is at leisure.
The private concession is set away from the crowds in a remote part of the legendary Mana Pools where private safari experience are the focus, and walking game-tracking a specialty. A 12 bedded seasonal camp built around a water hole, alive with wild-life galore being the only source of permanent water in the location. Walking and game-drive activities in the area will be complimented by the Zambezi food plain experience where one can have water based activities that include fishing and canoeing. Mana Pools lies below the Zambezi, where the river marks the border with Zambia, and far from any town or city. Kanga Pan is set in the most remote part of the world Heritage site, an hour inland from the Lower Zambezi River, and not far from Chitake Springs. Activities will include game drives in open four-wheel drive vehicles and night drives But the most unique and exciting activity is walking and tracking wild life with a professional guide: the possibility to leave your vehicle, or even walk out of the camp and track game on foot with an experienced professional guide is a rare experience in National Parks, and this is one of the best walking territory in Africa. You will enjoy thrilling nature walks to areas unreachable by car, and get even closer to nature and the animals.
Day 12:        Departure
Day Notes
Today you will be transferred to Dandawa Airstrip for your flight to Harare. In Harare connect with the flight to Johannesburg and on to London Heathrow.
Please contact our expert team for more information on this or other Zimbabwe safaris on 01444 225640 or e-mail us info@visionsofafrica.co.uk